Chap/Chie
Welcome~! I hope you're having a pleasant day.
Click on the buttons below to navigate around the site.
Still Icon
○ $7.50
shading can be requested
Wag Icon
○ $10.00
○ Linked Icon $20.00
if you'd like it to blink request it in your form
Large Wag Icon
○ $15.00
+ $2.50 for shading
100x100 in size , can be blinking
Still Doll
○ $20.00
+ $5.00 for complex design
size can be predetermined by buyer
Animated Doll
○ $30.50
+ $5.00 for complex design
Can be blink + wag.
size can be predetermined by buyer
Body can be very complex, tail must not be for me to accept.
Chibi
○ $10.00
shading can be requested
Fullbody Sketch
○ $15.00-20.00

if requested for experimental
it may or may not come with shading
Fullbody
○ $25.00-40.00
shading can be requested
Wiggle
○ Two oc $15.00
○ One oc $10.00
+ $3.00 complex design [each oc]
Colored Sketch Page
○ Starts at $35.00
+ $7.00 each added fullbody
+ $4.00 each added chibi/headshot
+ $10.00 for complex design
+ $10.00 shading

starting price is like the first 2 examples
Uncolored Sketch Page
○ $10.00
Can be 1fb + 2headshots.
or
Can be 1fb + 2chibi
! not completed with the binary tool !
Lineart
○ $10.00+
Trash Bin
things that are scrapped for one reason or another. but honestly y are u here
Bust
○ $15.00
+ $5.00 for shading
Pixel Bust
○ $5.00 / 500pts
Headshot Icon
○ $8.00 / 800pts
it moves, like the examples below
Amoeba
○ 230pts
simple ocs only
Custom Design
You can see more of my designs here!

If grabbing a custom, ask for the form to be sent to you!
-------
Design Terms of Service

○ Ensure the artist [restingden] is given credit for the design.

○ Edits are allowed.

○ Designs obtained for free, can only be gifted to someone/given out for free.
This changes once value is added onto them.

----
○ Random blob design: $10.00
You can only choose the specie/animal and general vibe
Can also link me a song to base it off of
○ On base design : $15.00
Link me the base you want me to make the design on.
----- ---- ----- -----

○ Custom Design :
$25.00+
For kemata custom info dm me on discord or notes
Terms Of Service
Commissioning/buying from me implies you've read and agreed to my terms.
Any statement is bound to change if discussed with me, the artist, prior to the commission.

Feel free to ask questions if confused/have any concerns.
-- - - -- -- - - --
○ Payment is expected in full after confirmation.
--If the buyer fails to pay within 24-48 hours, then the order will be automatically canceled.

○ Payments only accepts via paypal. [usd only] /points are no longer accepted as of 11/09/2020

○ Provide a neat/clear reference when commissioning.

○ Buyers can hold a slot for up to three days. After that, it will be given to someone else.

○ Turn around on average is about a month + a week from the time payment is received. However, can be a longer wait due to unexpected life events.
-- If the piece needs to be completed before a certain date then please mention it upon ordering. I'm willing to move my schedule around to make it happen if told in advance.

○ I will only refund on my behalf if I cannot draw the character in question.

-- In the case of an emergency occurring, the buyer can inquire about getting a refund.
---The buyer will not be asked to explain the reasoning for the emergency refund.
---- Refunds will go based on how much progress the commission lacked.

- - - -
General Process

○ Wips will be sent to the buyer to be approved. Changes can be made to their liking in this stage. As well as different poses or anything of the sort.

○ Approved wips will be worked on with the information given from the form and whatever was told when reached out to.

○ The completed piece(s) is sent to the buyer.
-Only minor changes will be permitted.
--Major changes will be charged a fee.

[ If I, the artist, is the one that made the mistake and not the buyer.
Then the artist will do what is possible to fix it. ]

----
Other

○ I will use any piece made by me as examples or in any way I feel fit.
[promotion, posted on another site, etc]
-- If you'd like to use the piece commercially, please ask in advance + be aware a fee will be tacked on!

○ Private commissions will automatically have a fee tacked onto them!

○ Re-posting with credit, is allowed.

○ Posting to store the images on something like toyhouse/refsheet and the like, is allowed. Ensure there is proper credit/links back to me, the artist.
Regulars Reward
This is a small way of me showing my appreciation in another form.
I'll, of course, continue to say thanks as always~!

♡
= - = - = - =

It's an extra piece of art given upon delivering the finished purchased product.
It can vary from sketches - experimental pieces.
Contact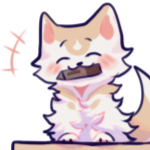 Discord is the best way to reach me
if you need a question answered.

Link below directs you to all
my socials and to-do list as well

---
If you have any questions at all, feel free to ask!

----- ----- -----
Discord:
sleepmode#9505